Rode wins round 3 of Baltic Time Attack Series, Jānis Baumanis on the podium
On Sunday, July 28, the Biķernieki circuit hosted round three of Baltic Time Attack Series. Among more than 40 competitors, the fastest overall lap time was set by touring car driver Roberts Rode (Nissan 200SX), while the Supercar class was won by Mārtiņš Lukstiņš (McLaren 570S).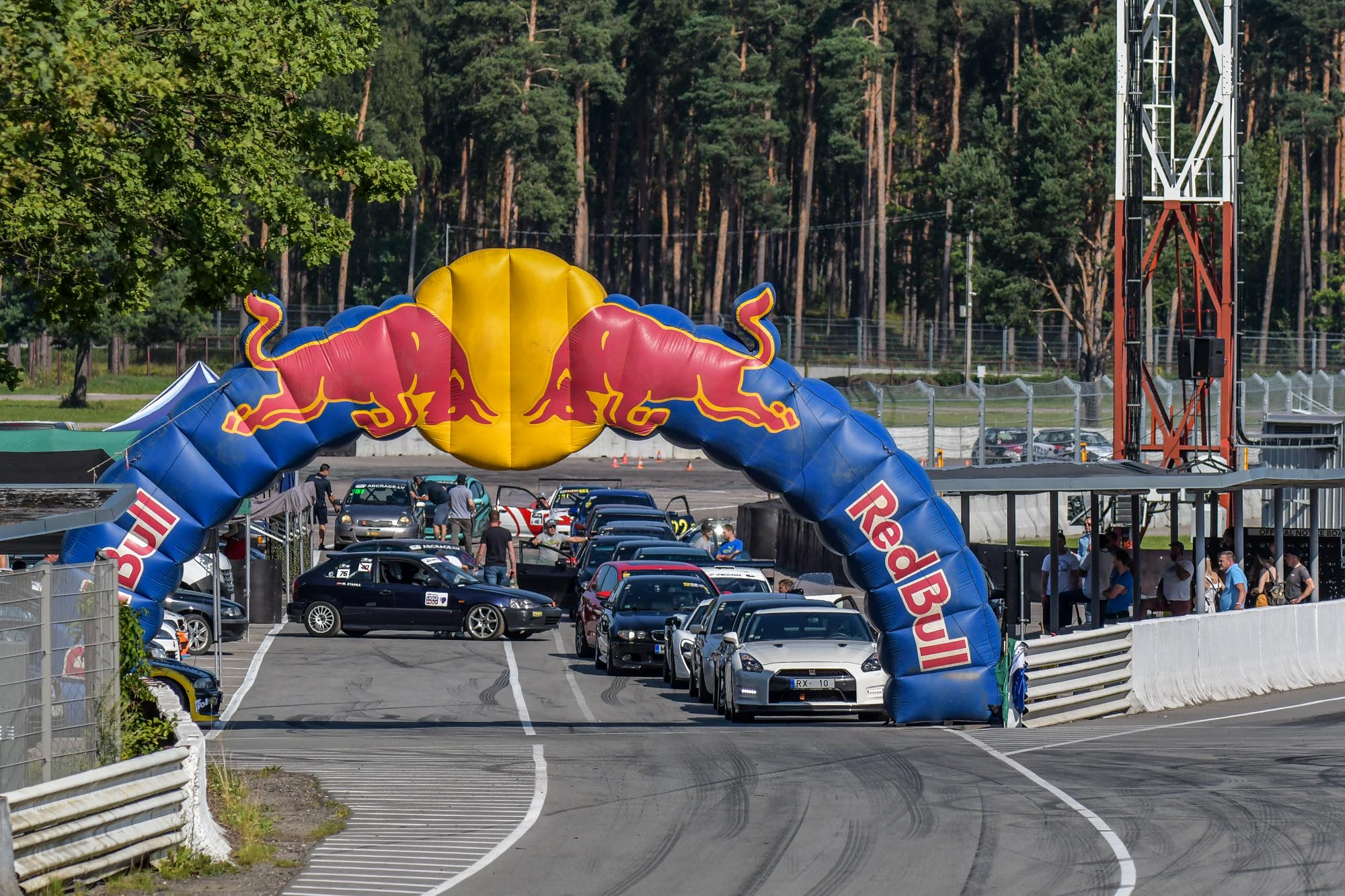 The paddock was filled with lots of exciting and different cars, as the ABC Race touring car event also took place as part of the Baltic Time Attack Series round three. Throughout the day, there were exciting battles for every last tenth of a second on track. One of the competitors in the Baltic Time Attack Series was World Rallycross Championship star Jānis Baumanis (Nissan GT-R), with guests from Estonia, Lithuania, Russia and France also taking part in the event.
While it was sunny, the hot weather served as an additional challenge to both the cars and drivers themselves, with car interiors heating up to and above 40 degrees Celsius. The temperature might be a reason why a large part of the competitors set their quickest lap time in the first of two runs.
Roberts Rode set the quickest lap time, going around Biķernieki in 1:25.079. That was enough to take home a victory in the Unlimited class, beating Raimonds Tihonovs (Nissan 200SX), who was second in class and third in the overall classification.
Supercar class had a very exciting line up of both cars and competitors, with the battle for podium being between rallycross driver Jānis Baumanis in a Nissan GT-R, touring car driver Ernests Skulte in a Porsche Cayman GT4, Estonian guest Lasse Hurt in an Audi R8, and this series' debutant Mārtiņš Lukstiņš in a McLaren 570S. At the end of the day, it was Lukstiņš who came out on top, beating Estonian driver Hurt by 1.5 seconds.
The battle for third position was very close – Baumanis was 0.8 seconds ahead of Skulte after the first of two runs, but could not take part in his second run due to a technical problem. That gave Ernests a chance to overtake the rallycross driver, but he only managed to improve his time by 0.3 seconds, which was not enough to get on the podium this time.
3000+ class had an exciting battle for the top spot, with the result being determined in the last few minutes of the second run. Round two winner, Lithuanian Algirdas Gelzinis in an Audi TT RS, was quickest in both qualifying and was leading after the first run, but Mareks Žukurs had saved his best for last and set his quickest lap at the end of the second run. Having resolved technical issues that had plagued his Mitsubishi Lancer Evolution in the morning, Žukurs set a 1:30.422 lap time, beating Gelzinis by 0.8 seconds and coming away with a victory. Einārs Lindermanis (Mitsubishi Lancer Evo) managed to finish third.
The next and final round of Baltic Time Attack Series will take place on September 28 in Auto24ring circuit in Parnu, Estonia. We would like to note that Baltic Time Attack Series is an event for both street-legal and race cars, where you can get invaluable track experience. In addition to that, the Parnu based track is definitely easier for new drivers, as it has much larger run off areas even if a mistake is made. More information about the upcoming event can be found on the series website, as well as on our Facebook page.
Baltic Time Attack round 3 results:
2000
1. Edvīns Vansovičs, Honda Civic
2. Sandis Siliņš, Honda Civic
3. Marta Starka, Honda Civic
3000
1. Andris Čats, BMW 3. sērija
2. Pavel Schapov, BMW 3. sērija
3. Pēteris Guļāns, BMW 3. sērija
3000+
1. Mareks Žukurs, Mitsubishi Lancer Evolution
2. Algirdas Gelžinis, Audi TT RS
3. Einārs Lindermanis, Mitsubishi Lancer Evolution
PRO2000
1. Reinis Lazdiņš, Honda Civic
2. Deividas Sakalauskas, Honda Civic
3. Artiom Kuzmiciov, Honda Civic
PRO3000
1. Artjoms Kočlamazšvili, BMW 3. sērija
2. Andris Ancāns, BMW 3. sērija
Supercar
1. Mārtiņš Lukstiņš, McLaren 570S
2. Lasse Hurt, Audi R8
3. Jānis Baumanis, Nissan GT-R
Unlimited
1. Roberts Rode, Nissan 200SX
2. Raimonds Tihonovs, Nissan 200SX